Emerging Innovations and Research in Fluorescence Applications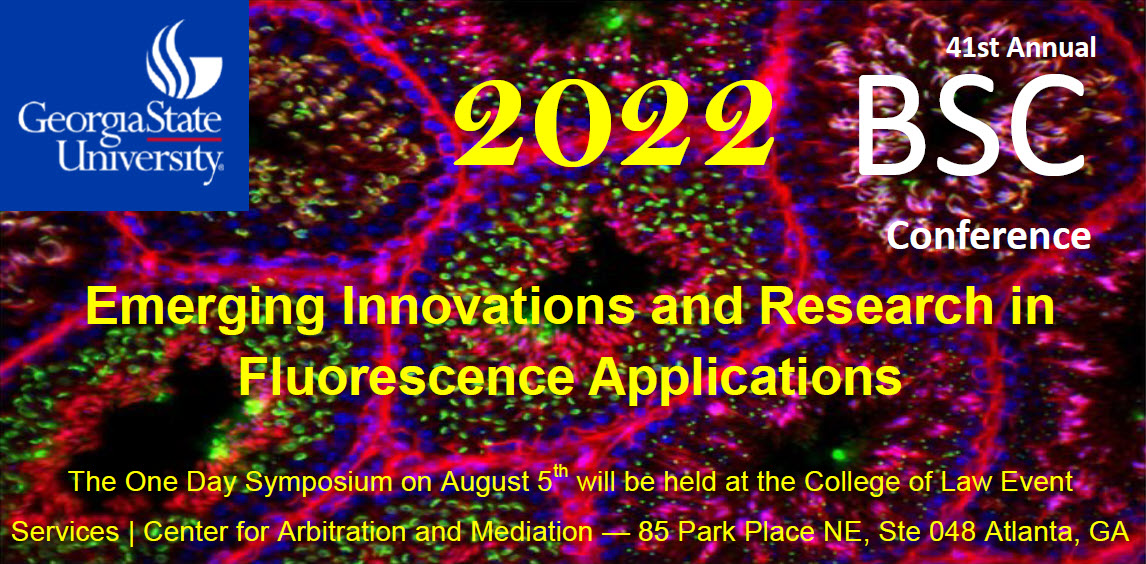 2022 Biological Stain Commission Annual Meeting
August 5, 2022
The One Day Symposium on August 5th will be held at the College of Law Event Services | Center for Arbitration and Mediation
85 Park Place NE, Ste 048, Atlanta, GA 30303
The Annual Meeting includes a symposium with invited speakers, a business meeting with reports from the Commission's officers and committees, presentations by members, and informal discussions and question and answer sessions on scientific and technical topics. Participants include users, manufacturers and vendors of stains, experts in dye analysis and testing, and other interested parties, such as representatives of scientific societies, the FDA and the ISO.
These Scientific Meetings usually are held in early June, often in or near Rochester NY, the site of the Commission's testing laboratory, and also in other major North American cities.
OTHER RELEVANT MEETINGS: Watch this space! To submit a notice about a meeting, contact the BSC's webmaster.
To review the proceedings of recent BSC meetings (since 1995), Click here.
Applications of stains in clinical microbiology. Dr. Bereniece Madison, Centers for Disease Control, Atlanta, Georgia. Stains for gels. Dr. Lisa Williams, University of Louisville, Louisville, KY. Gram's: the mother of all stains. Dr. Terry Beveridge, University of...
read more