One of the main objectives of the Biological Stain Commission is to ensure the quality of dyes through independent testing according to appropriate chemical and performance criteria.
This objective is met by:
Analysis in the Commission's laboratory of dye content and composition of samples submitted by dye manufacturers or vendors.
Testing performance of dye samples in standardized procedures known to be discerning tests of the staining quality of the dye.
Issuing certification labels to be attached to the containers used by companies marketing accepted dyes to assure consumers that these dyes have met the performance criteria of the Biological Stain Commission.
Conducting and supporting continuous research on biological dyes and histochemical techniques requiring them.
For a detailed account of the tests currently in use, see Penney DP, Powers JM, Frank M, Churukian C (2002) Analysis and testing of biological stains – the Biological Stain Commission procedures. Biotechnic & Histochemistry 77: 237-275. The tests are summarized in Conn's Biological Stains (4th ed., 2002), Chapter 28, pp. 417-425, by the same authors. Revisions to the testing methods and criteria are published from time to time in the commission's journal Biotechnic & Histochemistry, as are tests for new additions to the list of certified stains.
The BSC certifies dye powders, not staining solutions.
Most major vendors of biological stains sell Biological Stain Commission certified dyes – look for BIOLOGICAL STAIN COMMISSION CERTIFIED or CERTIFIED entries in their catalogues.
BE SURE THAT YOUR BOTTLES OF DYE POWDERS SHOW THIS LABEL: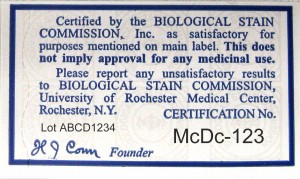 A newly designed label, shown to the left, is affixed to bottles of dyes certified from January 2010 forward. The new label includes the original manufacturer or vendor's lot number (above the late HJ Conn's signature) as well as the BSC's Certification number (in the bottom right corner). There are also security features built in to the newer design.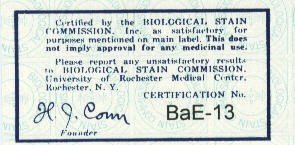 Dye powders with older labels will be encountered on bottles of stains certified in years before 2010. An example of an earlier Certification label is shown here. The old labels did not include lot numbers, but these can be verified directly with the BSC.
Older Certification label, discontinued after 2009

Why Choose Certified Dyes?
The Commission tests commercial dye batches in its independent laboratory – only those passing minimum assay limits and work satisfactorly in specified routine staining procedures, are Certified. Remember the wording "Certified" as applies to the Biological Stain Commission for a biological stain.  Take note that some vendors sell dyes with similar descriptions, however, these have not been assessed independently in this way and are not Certified products.
The BSC Certification is cost- effective. Shop around: BSC Certified stains are often less expensive than non-certified.
The assay criteria, and routine staining methods, used by the Commission's laboratory are in the public domain; see Conn's Biological Stains. Updates to testing procedures or standards are published from time to time in the Commission's journal, Biotechnic & Histochemistry, which has six issues per year. Each issue includes a list of recently certified stains, with their vendors and certification numbers.