Books and a Journal

CONN'S BIOLOGICAL STAINS – 10th edition (2002)
Edited by R.W. Horobin and J.A. Kiernan, published by Bios Scientific Publishers, Oxford, UK. 555 pages. ISBN 1859960995. Information on dyes used as biological stains – the relevant physicochemical properties (e.g., chemical structure, solubility, purity of commercially available dyes), suitable analytical methods, and their applications in biological and medical sciences. Click here for more information and a table of contents.  Buy this book
---

BIOTECHNIC & HISTOCHEMISTRY
A journal reporting investigations of biological stains and their applications, published by Informa Healthcare. Papers are published on topics as diverse as in situ hybridization, immunohistochemistry, image analysis and automation – as well as on more traditional staining and histochemistry, along with reports of results obtained with these and other methods in all branches of biology and medicine. From January 2012 this is an online-only journal, published in full color with no charges to authors (except for printed reprints, if requested). Click here to see more information about the Journal.  Click here for Information for Authors.
OLDER BOOKS from the BSC:

HISTORY OF STAINING – 3rd edition (1983)
Edited by G. Clark & F.H. Kasten, published by Williams & Wilkins, Baltimore. 304 pages. A unique account of the development of biological staining methods of all types, from dyes to immunostains: and of some of the pioneers of the methodologies. This book is out of print. Dr Kasten is working on a 4th edition. Click here to see the table of contents of the 3rd edition of this book. The first two editions (1933 and 1943) were by Harold Joel Conn (1886-1975).  Search for a second-hand copy
---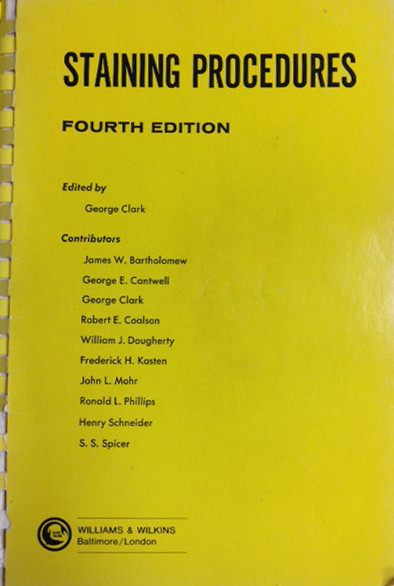 STAINING PROCEDURES – 4th edition (1981)
Edited by G. Clark, published by Williams & Wilkins, Baltimore. 518 pages. ISBN 0683017071. Staining procedures, including those by the Biological Stain Commission, are in the fields of General methods, Animal histotechnique, Botanical sciences and Microbiology. Instructions (with references) are given for hundreds of methods. The second and third editions (1960 and 1971) were also published by Williams & Wilkins, Baltimore. Buy this book.
---
GLOSSARY OF STAINING: Methods, Reagents, Immunostaining, Terminology and Eponyms  Click here to look up words and names in the most recent revision of the Biological Stain Commission's extensive online glossary.
STAINING, H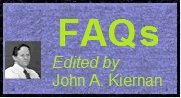 ISTOCHEMISTRY AND HISTOTECHNOLOGY:  Frequently Asked Questions (FAQs) Version 1.4
Click here to read the most recently updated questions and answers, which are arranged by topics. Click here for a more elegant presentation of this FAQ (Version 1.3), in the IHCWORLD web site.
---